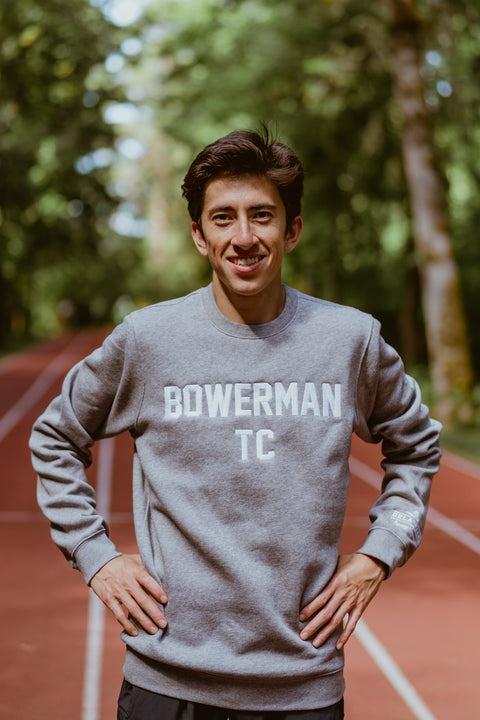 Meet Kieran Tuntivate
Kieran Tuntivate is a distance runner who specializes in 5000-meter and 10,000-meter runs. Raised in Wilmington, Delaware, Kieran attended Harvard University from 2015-2020 as a student-athlete studying Economics and running for the track team, competing at the NCAA level.
After graduating from Harvard University, Tuntivate turned professional and signed on with the Bowerman Track Club. In 2020, Kieran qualified Tokyo Olympics and placed 23rd in the 10,000-meter run representing Thailand. He is the first Thai-American to have entered and competed in the 10,000-meter race.
Other accomplishments for Kieran include: 2023 World Championship Qualifier, 3x All-American. Kieran's sights are set on big things for the 2023 season with competing in Sound Running's, "On Track Festival," and The Southeast Asian Games.
Learn more about Kieran!
How did you get started in your sport?
I got started in running how I suspect a lot of people got started which was by starting with another sport. I played competitive soccer all throughout my childhood and early teens, and while wanting to stay fit for soccer I started doing track. My older brother also started doing track around the same time, and as most siblings do, I really looked up to my older brother, so I started tagging along to a lot of his events. I was able to make a ton of friends when I started to do track, so that's what kept me coming back to the sport ever since.
Which of your strengths do you believe have made you into the great athlete that you are?
I think there's a certain amount of level-headedness that's required to keep coming back and being successful. The way I see it, that means not getting too high when things are good, and not getting too low when things are bad. When things happen like a bad race for instance or a bad workout, I think it's important to be able to move on quickly and put that behind you so you can just keep focusing on what's coming up. Almost like a mix of resilience and emotional intelligence.
What's the best piece of advice you've received from a mentor?
It would have to be a piece of advice that my brother gave me that I always keep in my back pocket and remind myself when stressed or anxious. He would always say when things got overwhelming, visualize all the different scenarios that you think could happen and then that way, when it comes time to tackle the problem, you're prepared for anything that might come up. I think I do a lot of that day-to-day, just visualizing and trying to prepare myself for a bunch of different scenarios. It helps when you get in your head and then when can rationalize things, you realize, OK, I'm overthinking this, this is realistic. This could happen, but I can let go of these five things that I'm freaking out about because it's not probable.
What was an unexpected challenge you came across in your life or your career that you had to find the energy to power through?
When COVID-19 started, it was my senior year of college, so I was really looking forward to that final season of competing for Harvard, and unfortunately, I didn't. I didn't have that opportunity and when our season shut down and then the Olympics was postponed, it was like, "where am I going to get this motivation or energy day-to-day when there is no end goal in sight at that moment?" So, in that situation, I got back to basics and reminded myself that I do what I do because I love running, the enjoyment of it, and the camaraderie among my friends and family.
What do you believe is the greatest challenge facing most athletes today?
A big challenge for myself and I think a lot of my teammates would agree with this, is that there's the aspect of our sport that's so intertwined with social media and I think a lot of times people feel a need to share highlights, such as the races or good workouts. When things aren't going the best for you, it's hard not to compare and I think the comparison can be difficult at times. It's discouraging when you see other people presumably doing well and you're struggling. I think that comparison has only been heightened since I started running.
What emotions do you feel while competing?
I think the first emotion I feel, strangely enough, is calmness. When the race is going on, there's nothing else to focus on other than the race. All the other problems and worries in the world just go away because there's only one thing that you're focused on. The other one would be motivation, and I think I get that from the support of my family. In college, my parents were at almost every single one of my races and that is a huge source of motivation for me, seeing how proud they are and how happy they are just to see me race. The third emotion I feel while racing would be exhilaration. Being a distance runner, it's obviously a long race so a 5k or 10k has a lot of builds. When you're 2 miles in and you're still at the front of the pack, the excitement only gets bigger and bigger as the race goes on. When you're pushing your body to those limits and you see it paying off, it's exhilarating.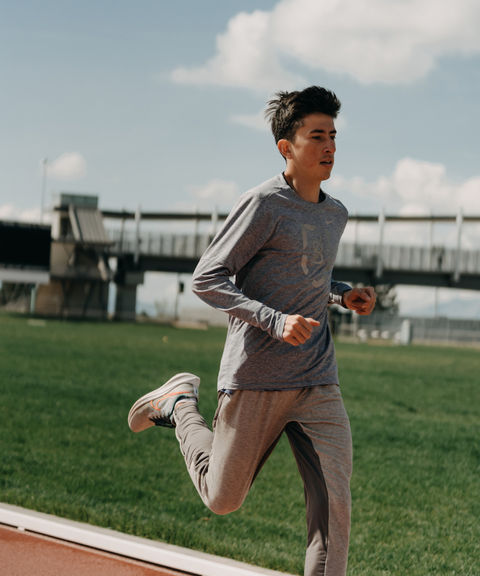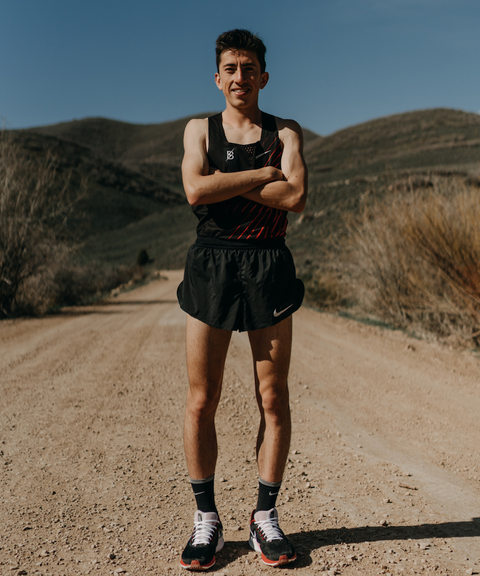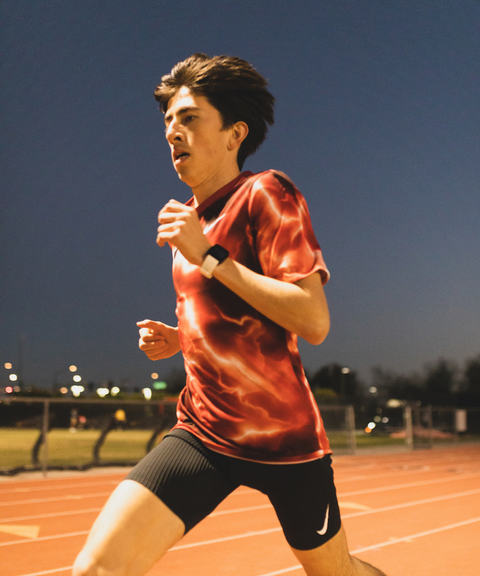 If you could achieve anything you wished for in your sport, what would it be?
If I had one wish, I'd like to retire, whenever that may be, knowing I reached my full potential. I think that would be really satisfying, knowing that I got everything out of myself that I possibly could and would have zero regrets if I was able to do that. I also think that in the distance running world, there's not a lot of Asian American representation and hopefully, while I'm running, I can inspire people. I think after retiring, I want to help grow the sport and try to get more people included outside of the people that already compete in cross country and track and field.
Walk us through your daily routine when training for your next race.
It really differs from day to day, but I'd say a common theme would be waking up, getting in some food, and then heading to our morning activity, whether that be a hard workout or an easier run. That is followed by a lift or a gym session. After that, a nap is necessary, it's almost a built-in part of my schedule every day. Then, in the mid-afternoon, there will be another exercise session, whether it be on the bike or going for a run. Most days of the week will follow that same schedule. A rest day for me focuses a lot on mental reset. On a lot of our days, we have so much on the go that for a rest day, I'll maybe take an easy run to a training location instead of driving where I can just faze everything out and let my mind rest. That way, when I finish, I know I'm already close to home, and I can get some food in right away, shower and just relax and give myself a mental break away from the general routine.
How do you stay motivated in the toughest times?
I think there are two things. One thing I do is rely on my training partners a lot. I think that's important because, one, they're all great athletes and knowing that you're doing everything with them gives me peace of mind. They are such good athletes and it's a reminder that if you can keep up with them, then you know you're doing something alright. They're also all such close friends of mine that it makes it easier to stay motivated and they make things fun. I rely on them a lot, but then I rely on my parents a lot too. When things get hard, just giving them a call is a nice reminder that they're proud of me, especially when I'm feeling discouraged or unmotivated, they're still supportive.
What do you do to charge before, during and after an intense race?
Before a race, I like to get in about five hours beforehand. Leading up to a race would include eating a small snack and drinking some water. Immediately after a race, I think it's really important to just get more fuel and hydration because that aids the recovery process.
How important is it to fuel your body properly?
It's incredibly important. Especially with running, one thing that comes with under-fueling is an energy imbalance and you can start to feel depleted over long stretches of time if you're not getting enough proper fuel. That can begin to manifest in other ways like injury and illness, so fueling is very important.
What is your favorite song to warm up to?
I mean, it changes with whatever mood I'm in. But recently I've been on a 90's pop kick, especially listening to Cher.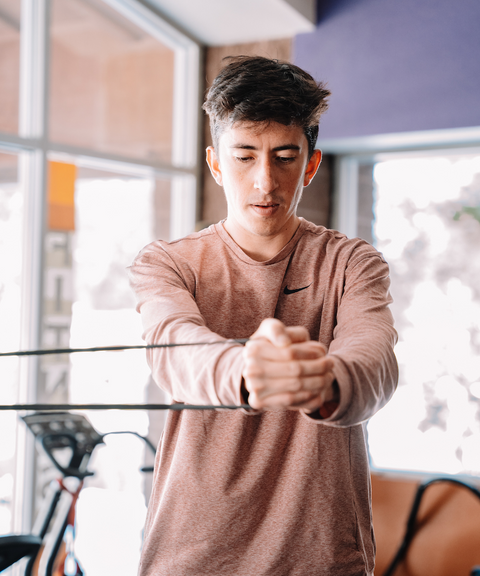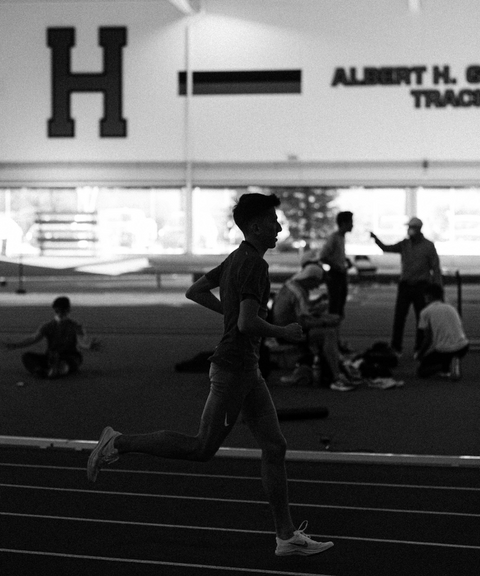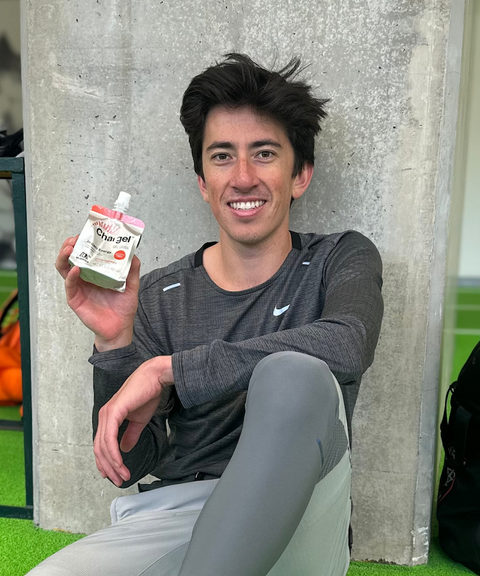 What are your favorite features of Chargel?
There are a few features of Chargel that I really enjoy. The first is the fact that Chargel contains no caffeine because of the way a lot of our workouts go, if I need extra energy in the morning, then I can get that through Chargel without worrying about that caffeine crash in the afternoon. I can still focus or take the time in the afternoon for a nap, which is important to me. Since I also do a lot of evening workouts, having caffeine past 5:00 PM usually isn't a good idea for me, and that's where Chargel really comes in handy. I also like that Chargel is transparent about its ingredients and is approved by the World Anti-Doping Agency, so I have peace of mind knowing there aren't any contaminants, this is something as athletes we always keep in mind. I also really like that Chargel doubles as a snack as well as a source of energy, which is useful when I'm on the-go. It's compact and easy to consume as well.
How do you integrate Chargel into your training?
When we're at altitude camps, we do a lot of driving. While we're driving to workouts which can often be a two hour drive, I bring Chargel along with me since it can be hard to get in fuel before, without feeling full, which you obviously want to avoid prior to a workout. I like to bring my Chargel along and just sip that throughout the ride to help get my body prepared for the approaching workout session.
What sets Chargel apart from other energy gels/drinks or sports fuel items that you've previously tried?
I like that you can reseal Chargel and it's easy and convenient to bring on-the-go. A lot of the other energy drinks or gels that I have previously tried are difficult because you're having to consume all of it or have to throw them away because you can't put them back in your bag without getting all over your bag. I really appreciate that it's resealable and uses B vitamins as a source of energy instead of other sources.
What kind of issues or challenges do you think Chargel can solve inthe athletic world?
I think going back to the idea of providing proper fuel for athletes. The fact that it serves as a snack and a beverage and is a good on-the-go source of calories, carbs, and energy is something that a lot of us are missing. Ensuring we get enough nutrition to keep our bodies healthy is really important. Having the Chargel that you can bring along in a variety of different circumstances is something that I think could help change or improve the athletic world.
If you had to pick one flavor of Chargel to train with for the rest of your life, which flavor would it be?
I think I'd go with strawberry. I like that it's fresh and thirst-quenching – I don't think I could get tired of it! I don't think I get tired of any of them
really, but strawberry is great because it's not too sweet, but has a great balance of flavors.